Shaw Elementary in Mesquite ISD
Subaru adopted 6 of our classrooms. These high performing teachers were able to buy important supplies for their classroom to enhance and enrich their instruction. Here are some of their words: 1) First and foremost, my fourth graders and I would love to give a huge heartfelt thank you for the generous donation. We discussed buying a new carpet to sit on during class and read aloud. We also decided that we need lots of pencils and journals as well good quality headphones. Also, we discussed that dry erase markers are a necessity as well as erasers along with the dry erase boards. We would like to buy quality games that correlate to our learning objectives to help solidify the lesson while having fun in the process. One example would be a real working cash register to simulate the buying and making change during the financial literacy segment. Another great idea the students came up with was the purchase of Flex-Space Balance Ball Seats for those of us who often get tired sitting on hard chairs. Again, from our classroom to the Subaru Loves Learning® Initiative, THANKS for helping us make this DREAM a REALITY! 2) I plan on spending it on differentiated learning materials/school supplies for my students. I also plan on spending some of it on sensory items for my students needs. As well as using using it on some technology resources that would benefit my classroom! I need these things for my classroom because it betters the classroom culture, it helps students feel safer and helps provide them with the necessary materials to succeed! 3) I will be using my funds to purchase flexible seating arrangements. I need these resources because I have lots of busy bodies in the room with lots of energy and I want to ensure they receive the education they deserve... even with their wiggles. 4) My class is looking forward to have new seating especially on our back teacher table and other places that they can sit around the room. More flexible seating for students with wiggles and be able to accommodate their needs. 5) Thank you much for helping out our PE department. We will be using these funds on new gym equipment for ALL of our students in PE class. We are in need of new balls, jump ropes, scooters, and cones that are broken and can't be used properly. We see so many students at one time and are in need more gym equipment for our big groups. This will make a huge impact on all of our students and the smiles on their faces when they use new equipment is PRICELESS!!! THANK YOU NORM REEVES SUBARU!!!
Norm Reeves Supporting Rockwall Athletics
Norm Reeves Subaru has been a strong supporter of Rockwall High School Athletics! They have sponsored both Rockwall Football and Basketball and we truly appreciate their contributions to these programs! Rockwall is so lucky to have amazing community support like this!
Sunshine Snack Bags
Meals on Wheels Senior Services of Rockwall County is more than the meal! We offer additional programs and services to keep our elderly and disabled citizens living independently for as long as safely possible by providing nutritious meals and many other services. In addition to receiving weekly meals, we recently launched a new program "Sunshine Snack Bags". These bags contain healthy snacks as well as educational information such as how to hydrate in this Texas heat as well as small trinkets like chapstick, tissues etc. Our wonderful volunteers help us deliver these bags on Monday to our clients. The clients enjoy seeing their faces and the bags are an added bonus to bring them extra "sunshine" for the day. Our purpose is to connect and be the eyes and ears to our senior community which ultimately leads to a better, safer and healthier lifestyle for them. We are so grateful for the continued support from the Subaru Share the Love Program to help us keep our seniors and homebound safe.
Subaru Loves to Help® WIN
Thank you Subaru for providing Women In Need Inc. with Subaru Loves to Help socks. With your support, WIN is able to provide each shelter resident with a few pair of new warm socks of their own. As a Domestic Violence shelter most of our residents enter with only what they have on and by your generous donation we are able to provide them with a basic clothing need that makes a major impact. Your donation allows for our focus to help the victim envision a life free of violence and to gain back control of their lives by helping build a secure today and offering hope for a safer tomorrow.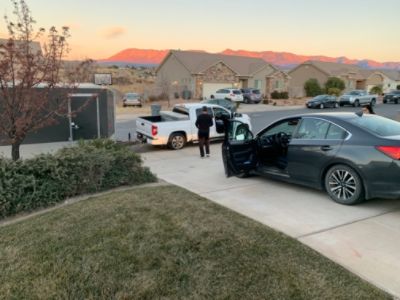 A Great Experience With Even Greater Service
We have been in to see Mikala Simmons on numerous different occasions over the years, and we have always felt absolutely blessed to have her working with us. She consistently meets us with a smile and genuine eagerness to help us with any and all of our needs. We definitely feel the love any time we visit Mikala at our Subaru dealer!
Helping us find FURever homes, one four legged friend at a time!
Rockwall Adoption Center is a small animal shelter in Rockwall, TX. Through our partnership with Norm Reeves Subaru Superstore Rockwall, we were able to find purrrfect FURever homes for over 50 animals during the month of October for the Subaru Loves Pets Month. Norm Reeves volunteers are wonderful, and their support made a huge impact on adoptions for October, and we are so thankful. We would like to say a huge thank you to Mikala Simmons from Norm Reeves Subaru Superstore Rockwall for their partnership during the Subaru Loves Pets Month! During this month, we were able to adopt about three senior pets (all over 10 years old), as well as one of our dogs that has been waiting quite a while due to being diagnosed Hypertrophic osteodystrophy. We are grateful for choosing our small shelter to be a participant for Subaru Loves Pets Month of October.
Norm Reeves Subaru Blanket Delivery to Parkland Hospital
LLS had the pleasure of partnering with Norm Reeves Subaru as part of the Subaru Loves to Care program and deliver 80 warm, cozy blankets to patients in the oncology unit of Parkland Hospital. Norm Reeves Subaru exemplified generosity and joy as they brought the blankets to the hospital with bright and shining faces. They even delivered a huge stack of handwritten messages of hope that will be sure to brighten the day of patients. The Parkland staff was very appreciative of the kind act and gave LLS and Norm Reeves Subaru a tour of their beautiful facilities. It was an impactful experience for all to see where patients receive treatment, meet doctors and nurses and smile at patients who were there the day of delivery. LLS is grateful to Norm Reeves Subaru for supporting its mission and sharing a passion to find a cure to cancer. Norm Reeves Subaru is thoughtful and truly wonderful to work with - thank you!
Meals on Wheels Rockwall County
Meals on Wheels is very grateful to Norm Reeves Subaru for the generous donation with the Share the Love Program. This donation will provide close to 900 meals for our elderly and disabled citizens in Rockwall County. MOWSS is more than than a meal. It begins with nutrition, then we access the additional needs of many seniors. From information and referrals, to companionship, daily human contact, emergency food boxes, feeding and caring for their pets, weekend meals and so much more...with the help of this wonderful company we are able to be the eyes and ears to some many isolated and home bound elderly. These are the people who have paved the way before all of us and they need us today! Let us never forget the children of yesterday. Thank you!
Norm Reeves Subaru Superstore Warms Our Hearts!
Our hearts were warmed while our clients will enjoy warmth throughout the year with these #subarublue blankets donated to Women In Need, Inc. by Norm Reeves Subaru Superstore in Rockwall, TX. These blankets will be used for the exit packages each client receives when they are ready to move from our shelter to their own home. Exit baskets include necessities and comfort items needed to make a house into a home, like a warm, cozy blanket! This is a big step for our clients, many of whom have never had the experience of being independent in their own home. We celebrate this milestone for our clients by providing them with "Exit" baskets to help them with things like cleaning supplies, food, furniture, bedding, pots and pans, and so much more that is needed when you move. Community support through companies like Norm Reeves Subaru Superstore helps Women In Need continue their services and support to families in Hunt and Rockwall Counties that are affected by domestic violence. #normreevessubaru #subaru #Rockwall #domesticviolence #WINTexas #Subarulovestohelp
Caring for our seniors in Rockwall County
This past April of 2021, Meals on Wheels Senior Services of Rockwall County was awarded $17,043 by our local Subaru dealership in Rockwall for the Share the Love Program. We were so excited and honored to be the recipients of this wonderful program. We met with John Ingram, his staff, our MOWSS Board President and Rockwall Fire Marshall to gather and accept this amazing donation and also capture a picture. With the senior population growing in Rockwall County, serving all cities including Rockwall, Heath, Fate, Royse City, Rowlett and Wylie, this gift continues to help us complete the mission of MOWSS. "To keep our seniors and persons with disabilities living in their homes for as long as safely possible, by providing nutritious meals, daily human contact and supportive services." MOWSS is much more than a meal! Offering many additional programs to our clients such as the Allan's Companion Program, Meals While you Heal, Caregiver Information, Ani-meals Porgram, Weekend Warrior Meals, The Magic of Reading, Senior Emergency Management and much more! Often we are the first place a family member or a senior in need comes to for help and resources. We have never placed anyone on a waiting list with the continued help of the communities support like Subaru. This year, MOWSS is on pace to serve 90,000 meals. This past February during the winter freeze, MOWSS was quick to respond to the needs of many seniors who lost power and electricity. Many staff and volunteers came to the aid of those offering extra food and clothing as well as rides to the warming shelters at The Center that the City of Rockwall had arranged to keep them warm and safe, providing extra food and blankets. This past March during a heavy rainstorm, a large tree fell on the roof of the building MOWSS had been in for many years. This of course forced us to relocate quickly for safety reasons and have since been in a new location on Hwy. 276 where we office currently. Although we have been presented many challenges, especially during a pandemic, WE NEVER STOPPED caring for our seniors......and it is with the HELP and SUPPORT of companies like SUBARU that has continued to support us during such difficult times. This generous donation offered by Subaru will provide over 2,428 additional meals! Amazing!! The Meals on Wheels staff, Board of Directors, volunteers and our seniors, are honored and THANKFUL for all you do for the community! Thank you!
Subaru Loves Learning
Shaw Elementary is so very thankful for the funds that you have provided to enrich the educational experiences of our students here at Shaw Elementary School. You have made a huge difference in providing materials that our learners might not have had access to, otherwise. We are a title one campus, and most of our children do not have the opportunity to enhance their learning outside of our district. So this grant means a great deal to our teachers, by allowing them to be able to provide resources for our students that might not be provided without your help. And as their principal, I am thankful, because this also means that my teachers are spending less of their pay check on classroom items (which they normally would) that are considered "extra" but are items that our learners deserve. We are so thankful for you! Kim Banuelos, principal of Shaw Elementary
Subaru Loves Pets
National Make a Dogs Day was a great success. Norm Reeves Subaru Rockwall partnered with Rockwall Adoption Center and was able to find homes for 30 dogs, 27 cats and 2 guinea pigs. With the support of our amazing customer, our dealership partners and Rockwall Adoption Center's efforts, we donated new pet adoption kits, dog toys and raised $3,100 in October. Thanks to the support from Subaru of America we are able to give back to our community and support our local pet shelter here in Rockwall, TX.